Welcome!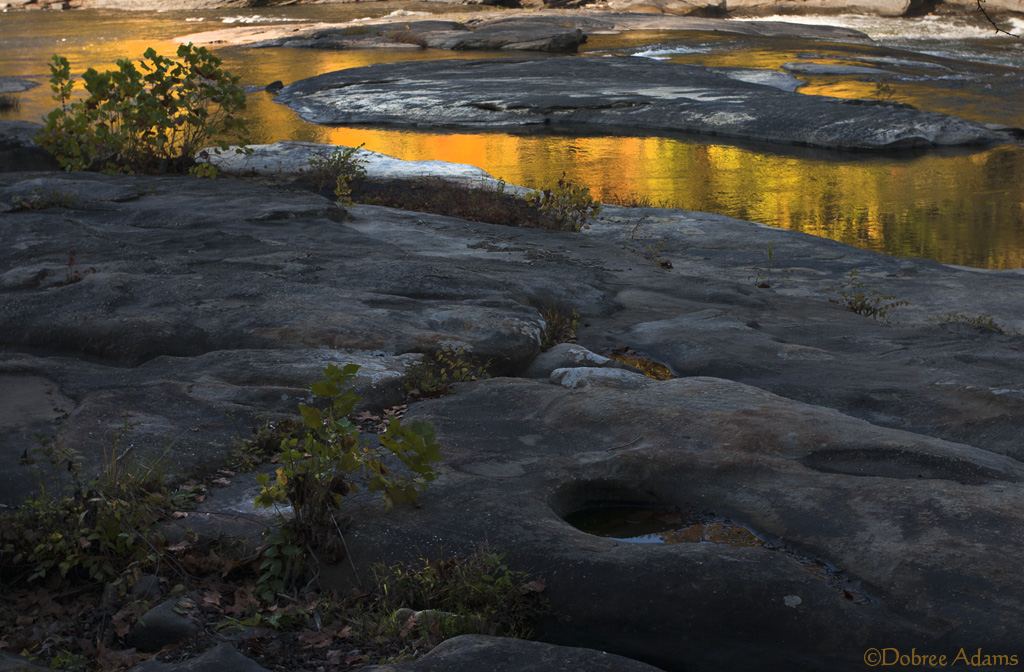 GOLD RIVER ROCK
Cumberland Falls, 2012
Dobree Adams lives and works close to the ground on a Kentucky River farm north of Frankfort.
She is widely recognized as a contemporary fiber artist, a weaver of tapestries, but less well-known are her photographs.
She began using the camera in the late 1980s, primarily to document and share what she was seeing,
the influences behind her woven work. But it was not until 2003 that she began exhibiting her photographs with her tapestries.
LOOK FOR DOBREE ADAMS ON THE 2015 LOUISVILLE PHOTO BIENNIAL WEBSITE!
SHE WILL HAVE A SOLO EXHIBITION AT CRAFT(S) GALLERY,
A TWO-PERSON SHOW AT THE DOWNTOWN LOUISVILLE LIBRARY,
AND GROUP SHOWS AT ACTORS THEATRE AND GEORGETOWN COLLEGE.
FOR NAVIGATION TIPS FOR THIS GALLERY, PLEASE SCROLL TO THE BOTTOM!
Her photographs related to the abuses from mountaintop removal coal mining have been exhibited throughout the region accompanied by her handwoven tapestries. Her image AERIAL BLAST was published in the February 24, 2014 issue of The Nation.
Dobree and her husband, poet/publisher/book designer Jonathan Greene, have had a series of museum exhibitions of her tapestries and photographs intertwined with his poems, most recently at the Evansville Museum of Art in the fall of 2013.
Her well-received solo photographic debut, A Decade of Intimate Landscapes 2003 – 2013, curated by Barbara Hano of Paris, France, was a prominent feature of the 2013 Louisville Photo Biennial.
Dobree Adams is a rare impressionist artist who creates in and through photographic images.
In today's flood of pictorial (and hyper) reality, why is her art so special, making us marvel in fascination before each image? Because her work is a journey of revelation beyond the frames and into the mystery of nature — its power, glory, intensity and evanescence.
She makes us see and feel anew the poetry and art of nature, overwhelming us with beauty.
          Barbara Hano, Paris, France
Watch PBS these days and see programs with physicists in their labs working on "string theory" and the idea of "branes" that are parallel to us in the universe. Dobree Adams' photography takes what's there under our feet and makes it all be seen anew, from other sides.
Jonathan Williams, Scaly Mountain, North Carolina
Dobree Adams, best known as a fiber artist, has quickly become a photographer to watch.
Jo Anne Triplett, LEO Staffpicks, October 2013
NAVIGATION TIPS
There are Full Screen versions of the galleries of photographs.
If you hover over 'Grand Galleries' and click on one, the images
will come up bigger, with no text.
If you then hit FS in the right corner, you get the Full Screen version.
If you hit SL, and then hit Info in the upper right corner,
you get title, location, and year.
If you select one of the Galleries of Photographs, you can choose
FS and SL the same way. In fact, you can choose SL without FS.
To get out of Full Screen mode, use the escape key.